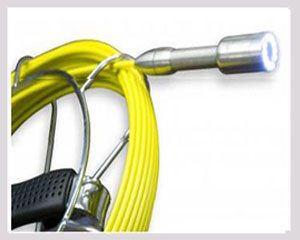 Remote Visual Inspection / vidioscopy / boroscopy
That is very much suitable for pipes, tanks and tubes up to 20 meter lengths.
1. Applications:
This very effective portable inspection device is designed to deliver quality video inspection in a wide range of applications including: a) Sewers lines, b) Building ducts/piping, c) Wells, d) Power plants, e) HVAC Duct f) Chimneys etc
2. Lighting in Camera:
The push camera head contains 12 adjustable LED lights, a flexible spring coiled joint to navigate corners, and a Sapphire lens to resist scratching.
3. Camera:
The high resolution CCD chip is designed to capture bright, crisp, colour video of the inspection area, and it is integrated in to a strait view camera head.
4. Monitor:
The monitor and additional controls are built into a compact, waterproof and lightweight plastic case making it easy to transport, and bring this video scope with you. The 7" TFT LCD display presents a live crisp colour image at your fingertips.
SPECIFICATIONS :
Insertion Probe
• Length: 20 meter(65.6'), 35 meter (114.9 foot) and 40 meter(131.2')
• Camera Head Diameter: 23mm (1.0")
• Colour CCD camera with sapphire glass lens
• No articulation
• Fibreglass cable
• 600 Field of View (FOV)
• 00 Direction of view (DOV)
• Waterproof design for portable use
• Illumination: 12 white LEDs
• Special point touch connector to camera
IMAGE HUB :
• 7" Colour LCD monitor with Video output, file playback
• Monitor Picture Resolution: 320 (TV Lines)
• SD memory card slot
• Recording format - AVI
• Power adaptor: 110~240VAC, 12VDC/1800mA
• Rechargeable battery for portable use up to 3.5 hours
• Li-ion battery box (4400mAh)
• System Operating Temperature: -200to 1200F
• Operating temperature - 200F~ 1200F (- 28C0~ 500C)