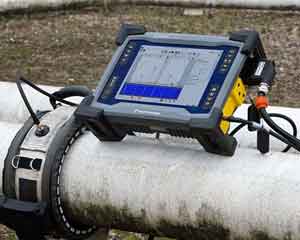 Long Range Ultrasonic Testing
Long Range Ultrasonic Testing (LRUT) is an advanced pulse-echo method of non destructive testing which was developed to allow for testing large volumes of material from a single test point. What differentiates this from more traditional methods of ultrasonic testing is that, with LRUT, a liquid couplant between transducers and the surface is not required. For this reason LRUT is one of the fastest inspection tools for carrying out pipeline Surveys for corrosion and other damage mechanisms.
LRUT is performed using a system which is made up of a low frequency flaw detector, a pulser receiver unit, some transducer rings, and a laptop computer which contains the software that controls the system.
LRUT is an invaluable process that is used in a number of applications throughout the oil and gas industry. It is widely used in the inspection of pipes in areas such as road and river crossings, power plant tubing, rivers, offshore topside pipework, jetty lines, and refinery pipework for the detection of issues such as corrosion under insulation.
Long Range Ultrasonic Testing Facility at PETROCON ENGG. & INSPECTION PVT.LTD Navi Mumbai, India
OMNI SCAN MX2 & Teletest Focus was the first commercially available system to utilise long-range guided Teletest Focus was the first commercially available system to utilise long-range guided wave ultrasonic testing for detecting corrosion in pipelines. TWI developed the technology in response to requests from Industrial Members in the oil, gas and petrochemical industries. These companies required an NDT method capable of detecting corrosion in pipes and pipelines at areas inaccessible for inspection by conventional NDT methods, i.e. insulated and sleeved pipework, or pipelines running under roads or elevated on pipe racks, etc. The basic system consists of:

OMNI SCAN MX2 & Teletest Focus was the first commercially available system to utilise long-range guided wave ultrasonic testing for detecting corrosion in pipelines. TWI developed the technology in response to requests from Industrial Members in the oil, gas and petrochemical industries. These companies required an NDT method capable of detecting corrosion in pipes and pipelines at areas inaccessible for inspection by conventional NDT methods, i.e. insulated and sleeved pipework, or pipelines running under roads or elevated on pipe racks, etc. The basic system consists of: