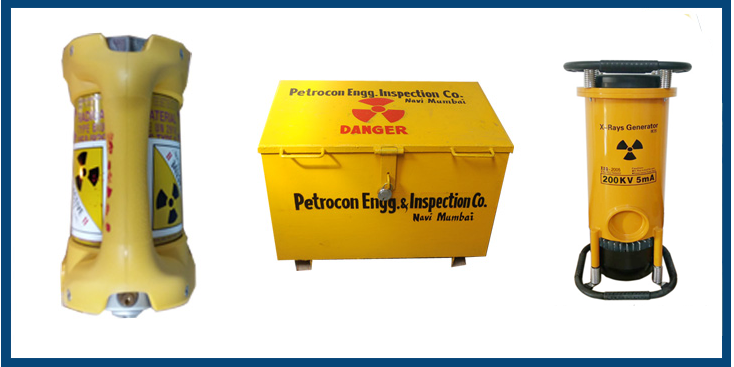 Radiographic Services
Use of radiation sources in Industrial Radiography is heavily regulated by state and federal organizations due to potential public and personal risks. Two of the most commonly used sources of radiation in industrial radiography are x-ray generators and gamma ray sources. Industrial radiography is often subdivided into "X-ray Radiography" or "Gamma Radiography", depending on the source of radiation used.
TA device called a "camera" is used to store, transport and expose the pigtail containing the radioactive material. The camera contains shielding material which reduces the radiographer's exposure to radiation during use. A hose-like device called a guide tube is connected to a threaded hole called an "exit port" in the camera. The radioactive material will leave and return to the camera through this opening when performing an exposure!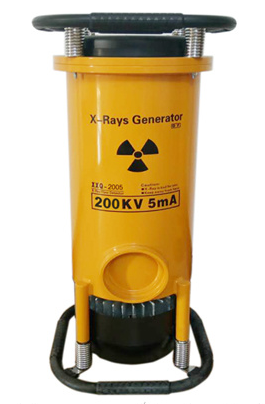 Radiography testing facilities at PETROCON ENGG. & INSPECTION PVT.LTD Navi Mumbai, India
Iridium 192 gamma ray and X-ray inspection equipments.

Modern testing equipments perfectly equipped for high sensitivity applications.

Dark room for film processing and Film Interpretation facilities.

Radiography inspection personnel are qualified and certified to BARC RT Level I, II certified, RT Level I, II certified as per ASNT recommended practice SNT-TC-1A and or IS:13805 certified by Indian Society for Nondestructive testing (ISNT) and are approved by leading third party inspection authorities.

Experienced in house ASNT NDT Level III consultants and experts for providing techniques establishment, procedure preparation, approval and consultancy services.

ASNT NDT Level III trainers for conducting in house or external NDT Level 1, 2 training and certification courses on Radiography testing and other NDT inspection methods.

Strong team of NDT Level 2 certified professionals to provide Radiography or X-ray testing services across India.